I AM HER® Apparel is a Black owned and operated lifestyle apparel brand founded by Chief Girl Boss, Daphne Valerius for the girl who is becoming, for the woman who is evolving and for the women and girls who know who they are and show up in the world unapologetically.  - We are each other.
Welcome to I AM HER Apparel
BE AN AMBASSADOR - We're looking for confident women to represent our brand and what we stand for from around the world. Our brand is committed to inspiring and empowering women and girls to be their very best selves from the inside out. If you believe in motivating and lifting other women up, apply now to join our team as a Brand Ambassador!
Apply to become a brand ambassador
Unapologetically designed and created with #HER in mind.
They love us!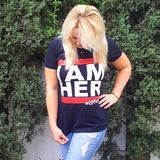 " I feel like I can do anything. @iamherapparel makes #tshirts and #accessories encouraging #women to challenge themselves. Take that big leap. Make your voice heard. Express yourself. Be unapologetically you. And don't allow yourself to be silenced. Join the movement"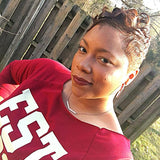 "Thank you sooooo much! I love my shirt! I will be purchasing more items! Thank you for such a positive message for US!! I love your product and will be purchasing again"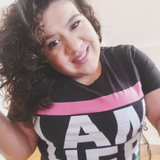 " I decided to become a brand Ambassador because #iamher, the hard working woman that strives to be my best self. This brand is empowering and not many brands are made for us all. All shapes, regardless of disability and race. As a woman with a disability @iamherapparel has made me feel as I belong and in the process I have been working to make others feel the same. " 
Shop For Him
Established in 2010, I AM HER ® Apparel is for the girl who is becoming, for the woman who is evolving and for the girl who knows who she is, who she is called to be and shows up in the world unapologetically leaving her mark. I AM HER® Apparel's purpose is uplift her, inspire her, transform and empower her with every style and design unapologetically created with "her" in mind. I AM HER® is a registered trademark owned by parent company, His Daughter, LLC. 
#BecomingHer #IAMHER  #ESTIIIIVMMX